Dark Underarm Whitening
Having dark underarms is something that not everyone thinks about until they want to wear sleeveless shirts or a bathing suit. When this happens, your first thought may be to cover-up and just wear a long sleeve shirt and keep your arms down. Even shaving too often can cause dark underarms. The good news is, you don't have to cover up anymore. You will find that using Pink Privates may help whiten dark underarms as well as other areas on your body.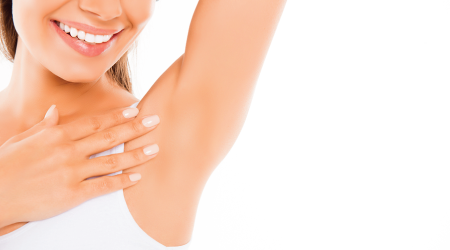 If you are looking to help even the look of skin tone on your dark underarms or intimate areas, then you want to use Pink Privates. This is a skin whitening product that has been shown to work safely and effectively at lightening the appearance of dark underarms, the vagina, nipples and all other areas of the skin without any known side effects.
Usually, when someone is considering an option for a more even looking skin tone, they are looking to help lighten freckles, moles, age spots or sun spots. You will find that not only will Pink Privates work to help even the look of skin tone on your dark underarms and intimate areas, but it will also work to help lighten the appearance of skin imperfections such as freckles, moles, age spots and all other hyperpigmented areas. Pink Privates is formulated to work safely and effectively without using any potentially dangerous ingredients such as Hydroquinone. This is an ingredient that has been linked to potentially harmful side effects. Hydroquinone has also been banned in many European countries and should not be used in a skin lightening product unless under a doctor's supervision. It is recommended that if you see Hydroquinone listed in any dark underarm lightening product that you do not use that product.
Having dark underarms can be embarrassing, and you may not want to go to a spa or dermatologist to have them lightened. When you purchase Pink Privates, you will find that you are purchasing a dark underarm whitening product that will work on ALL areas of your skin, in as little as eight weeks with directed daily use, for under $50 per bottle. You can use Pink Privates safely on your dark underarms, vagina, penis, scrotum, nipples or anal area safely and effectively without any side effects. Pink Privates has also been formulated for both men and women. Pink Privates can be purchased right here on our site, Pinkprivates.org, and then delivered directly to your door! Stop being embarrassed by your dark intimate areas or dark underarms and try Pink Privates today!
*Results May Vary for each and every individual.